---
---
News & Updates


We are proud to be able to offer the following 7 stallions for the 2008 breeding season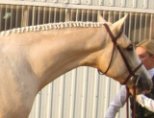 Arts Aero, Mirabeau, Cloud Ten, Sato, Golden Time, El Dorado and Romeo.


---
---
November 2010
Blazing Colours Farm receives the,
"BEST EXHIBITOR AWARD" at the Royal Agricultural Winter Fair!!
given out by the OEF in the Spirit of the Horse!

We were showing off our horses in the Spirit of the Horse
exhibit and teaching about colour genetics.



---
---
---
---
April 2010
Watch our mares LIVE on on Mare Stare!!!
That is RIGHT we have live webcams! Join us in the spring and watch the mares foaling and mares with foals already born. Soon we will also have a webcam in the indoor riding complex so everyone can watch us riding and training the young horses and stallions on Saturdays.
---
---
---
---


Feb 19/10

Our first foal of 2010 has arrived. It is a bay colt with 4 white socks with a star and strip. He is by the 2 time Breeders Cup Classic winner, Tiznow. And out of the mare Officer Cherrie, who is a multiple stakes winner.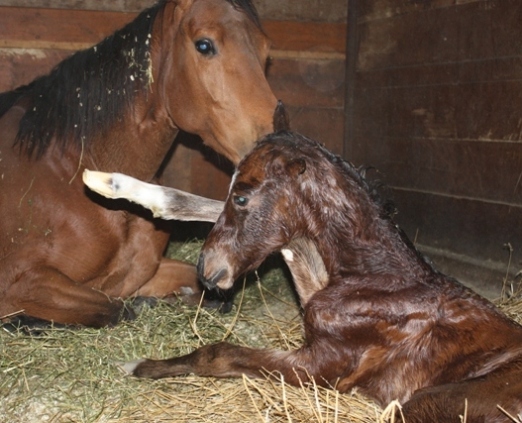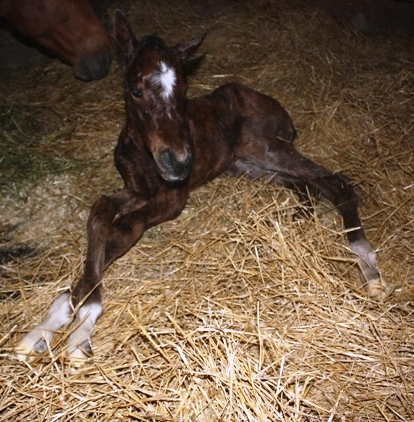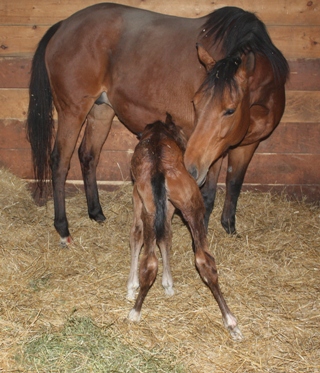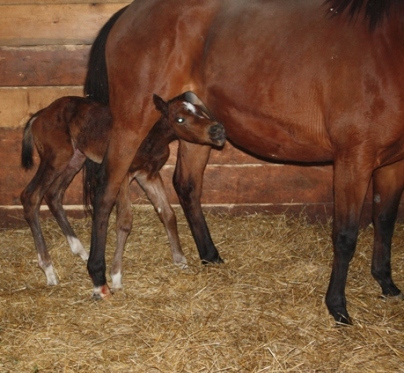 See more photos here soon...
---
---
---
---


August 11/09

We hosted our third RPSI inspection at Blazing Colours Farm. What a success!!! It was our largest turnout yet with 21 horses presented. Blazing Colours Farm presented 3 foals and ALL three earned GOLD PREMIUM! The two foals Miralexus and Mira-Prince are sired by Mirabeau and Formal Attire is sired by Arts Aero. We also presented a 3 year old Mirabeau daughter, Miragold, and she earned the title of Premium Mare! It was a wonderful day and again we were surrounded by great people, fabulous food and VERY nice horses!! In total there were 9 mares, 2 yearlings, and 10 foals presented for inspection. Enjoy a sample of pictures below.

"Miralexus" below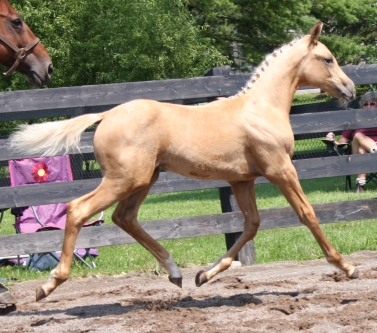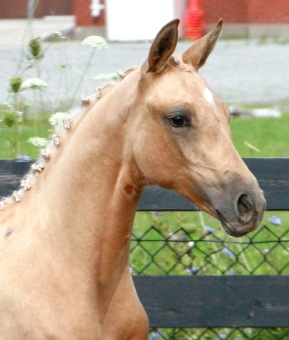 "Formal Attire" below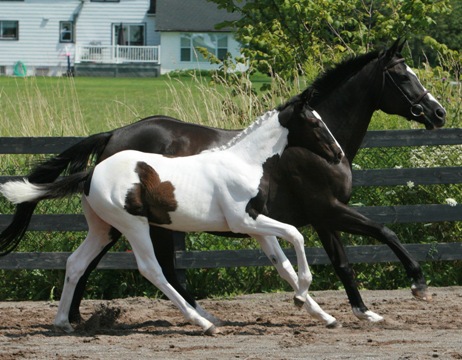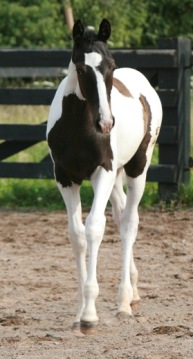 "Mira-Prince" below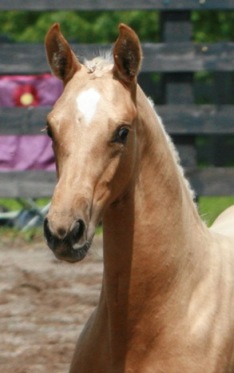 "Miragold" below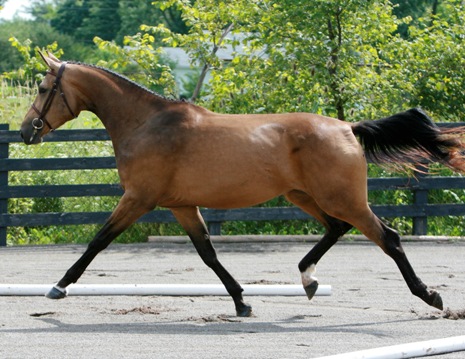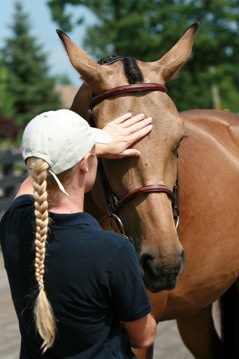 ---
---
April 2009
NEW riding complex Complete!
And the horses are moving in... A state of the art riding complex which consists of a 80x200 riding arena and a 40x200 stall barn. The stall barn and arena are attached by a 24x12 annex.
Visit this page for more information and LOTS pictures


---
---


December 14/08
The New barn and riding arena is coming along nicely. It is well over half done with the shells complete. Windows are in, tile drainage around both buildings and now the arena footing is going in.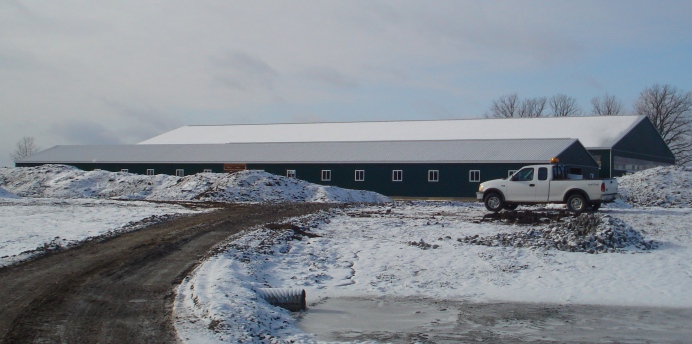 See more photos of the arena being built here.
---
---
November 16/08

Officer Cherrie (our race horse broodmare) is booked and has a confirmed spot to
Tiznow


Champion Sire and Horse of the Year.

Tiznow is the only horse in the history of the Breeders' Cup to win the Classic…twice. Retired sound with Career Earnings of $6,427,830.
Read more about him here


---
---
November 15/08

6 Colourful Thoroughbred go to the Royal Winter Fair. We took two stallions. El Dorado who is our cremello Thoroughbred stallion and Cloud Ten who is our palomino loud sabino Thoroughbred stallion. We also took one two year old filly. Her name is White Beauty and she is a cremello. And finally we took 3 weanlings, Sunila who is a cremello, Savannah who is a buckskin and Simba Twist who is a buckskin sabino. It was a real treat for so many people to be able to see this many unique and rare Thoroughbreds all in one spot. We had many people come out to just see them in person. It was a fabulous day and we had a chance to speak to many people and educate them about the different colours. The horses were beautifully turned out and so very well behaved, the stallions especially. Cloud Ten was in a class with all mares and he never once acted studly. El Dorado who is an 8 year old stallion was a star too. I am so proud of how well mannered they all were. At the end of the day we did not place as well as we would have thought in many of the classes but I am sure it was the first time that any judge has seen a cremello Thoroughbred or ones with soooo much white. Below are photos we took at the Royal of our guys.

El Dorado. Cremello Stallion, 8 years old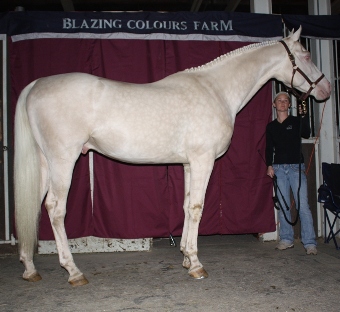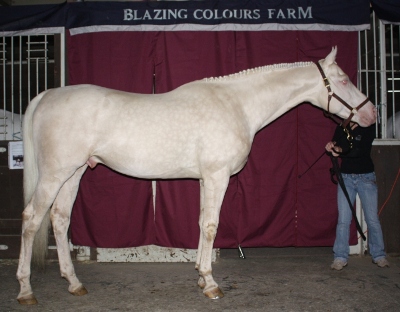 Savannah. Buckskin filly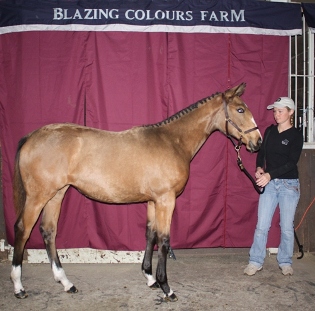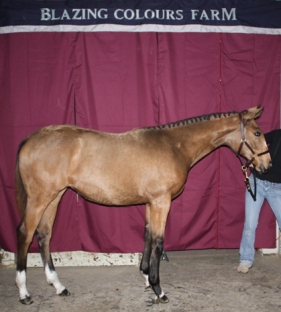 Sunila. Perlino filly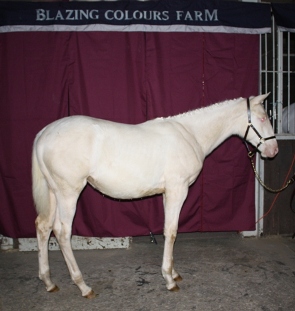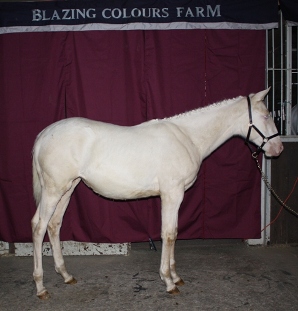 Simba Twist. Buckskin sabino colt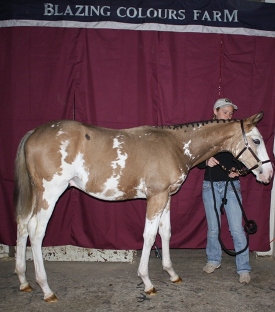 White Beauty. Cremello filly, 2 years old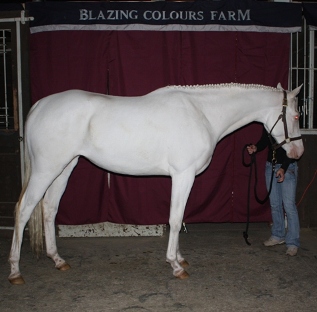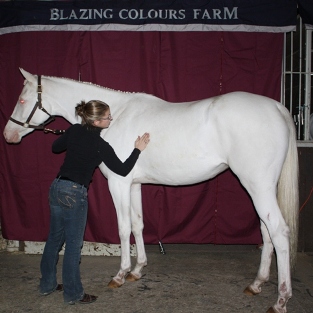 Cloud Ten. Palomino loud sabino stallion, 3 years old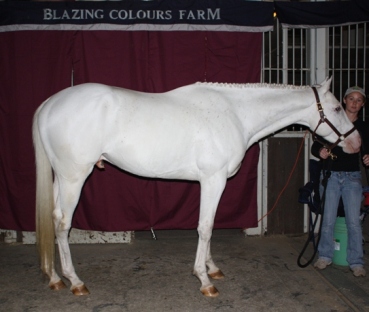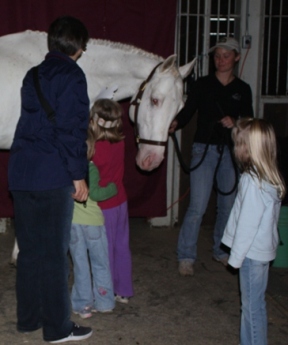 ---
---
---
---
October 20/08

Arena progresses

The walls are up, roof is on and now the stall barn will begin.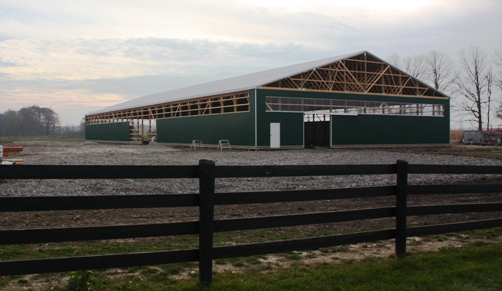 ---
---
---
---
September 29/08

RPSI Inspection

We had 16 horses this year and the weather was fabulous for the end of September. Again all Mirabeau foals presented (4) were premium status with our filly Mirastretta being the high score with an 8.2 for movement!!! See photo of palomino and pinto below... And our homebred 3 year old Thoroughbred mare, sired by Sato out of Justlikemymom was presented for mare approval. She not only made main mare book but was award a Premium mare title!!! She is the chesnut pictured below...

Miratreetta (foal), Princes Vera(pinto), Tasha (left)and April Wayenberg(right)



Just A Little. Homebred Premium mare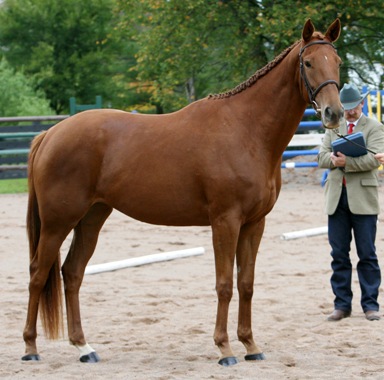 ---
---
---
---
September 15/08

Ground is broke for the new riding complex being built. The riding complex will be consist of a 80 x 204 riding arena with a separate but attached stall barn. The stall barn will have a tack room, 2 wash stalls and 3 tack up stalls. The stalls are being custom ordered with each having a stainless steel automatic water, a window to the inside aisle and to the outside of the barn. Every stall will have rubber mats over a concrete base. The aisle is being done is interlocking rubber bricks. All wood work in stalls, including the back wall, and arena kick boards are being done in tounge and groove ash.
The barn is being completly finished with insulation in walls and roof.


---
---
August 21/08

Officer Cherrie arrives!!!

This is our first race horse broodmare and we are excitied about choosing a stallion for her. She had a great first day and will be introduced to some of the other mares in the days to come.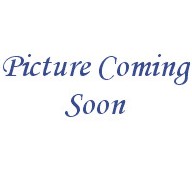 ---
---
---
---
June 1/08

April Wayenberg and Arts Aero compete at their first national dressage show.
Level 1 test 3 63.65% & test 4 65.79% giving the pair 3rd place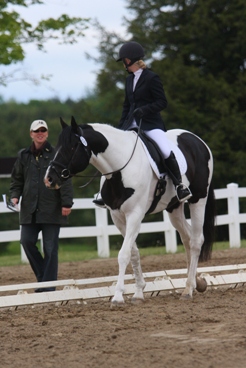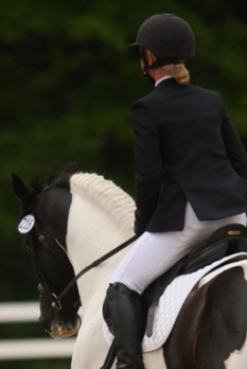 ---
---
May 16/08

Our last foal arrived on May 16th/08. Please check out the foals page for pictures and information on them all.

White Safari. April 5 - Cremello Sabino Thoroughbred filly
Mirastretta. April 12 - Palomino Warmblood filly
Sunila. April 24 - Cremello Thoroughbred filly
Savannah. April 25 - Buckskin Thoroughbred filly
Simba. April 30 - Buckskin Sabino Thoroughbred colt
Miramber. May 2 - Buckskin Warmblood filly
Sunkist. May 16 - Palomino Sabino Thoroughbred filly

All the foals at about 3 months old (below photo taken August 15/08)


---
---
April 5/08

Blazing Colours Farm is very excited to announce the arrival of our first foal. A loud sabino cremello Thoroughbred by Sato and out of White Gold.

More pictures will be posted on her own page soon.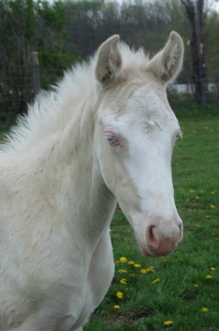 ---
---
April 4/08

Arts Aero and owner (April Wayenberg) show at Hendervale Winter Fest Dressage show.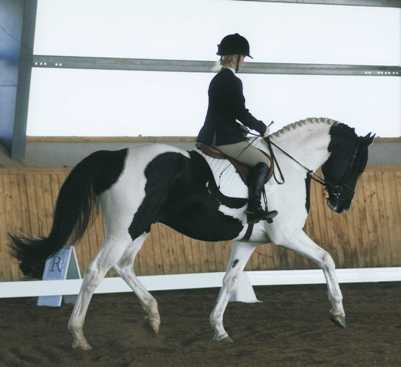 ---
---
March 30/08

Arts Aero and owner (April Wayenberg) are a Demo team at the Don Barnes "Educate your Eye" clinic. It was a great experience with very positive feedback.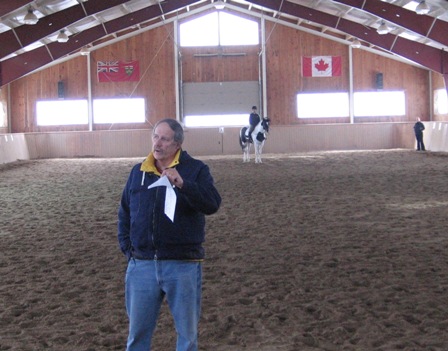 ---
---
---
March/08

Offering Stallion Season Shares

We are also offering season shares at a onetime cost of $7000. This entitles you to 2 breedings per year, every year, to any of the stallions that Blazing Colours Farms stands for a public stud fee. This includes the stud fee and booking fee. This also includes live cover stud fees/ breedings. Collections, shipping semen and mare care on the farm are extra. We are only offering 6 season shares.


---
---
March/08

Blazing Colours Farm is very excited and proud to announce the addition of El Dorado, a Cremello Thoroughbred stallion, to our 2008 line up of stallions. He is one of 7 choices we can offer mare owners this year. El Dorado is a gorgeous stallion who is 16.3h and 8 years old. He will be in training this spring and start some showing late spring/early summer. We would like to Thank Red Fox Farm for this opportunity.

More pictures will be placed upon arrival at Blazing Colours Farm.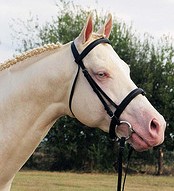 ---
---
Feb 24/08

Arts Aero and owner April Wayenberg compete at their first Dressage show together taking home 3 first places!!!

Pictures have been ordered and will be placed here upon arrival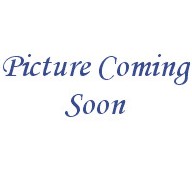 ---
---
February 2008

Videos are being added to our site for everyone to see our horses in action.
So far;

Mirabeau. Our cremello german warmblood stallion in action... Click her to go to his page and see him

Miramaze. A very rare buckskin tobiano pinto warmblood filly. She is by Mirbabeau and is for sale. See her by clicking here and scroll to the bottom of the page

Golden Time. A very rare palomino Thoroughbred stallion by the Glitter Please line. See him winning Grand Champion Thoroughbred Stallion

Mirascotch. Stunning palomino warmblood gelding by Mirabeau. He can be seen here in action
---
---


November 11

Great results from the Royal Winter Fair with our Thoroughbreds!!! Golden Time won Champion Senior stallion/colt/gelding and then went back in for Grand Champion Stallion/colt/gelding and WON!! He is named Grand Champion Thoroughbred Stallion at the Royal Winter Fair receiving the Jockey Club Challenge Trophy. Our weanling colt, White Pharaoh, won his weanling class and was then named Reserve Junior Champion. Below is a YouTube video of the Champion Class which both Golden Time and White Pharaoh were in. Enjoy the video... There are also some photos below from the day as well.

Golden Time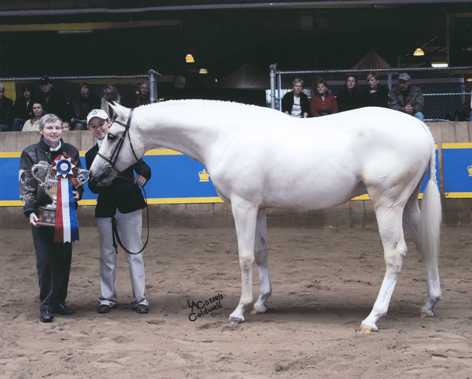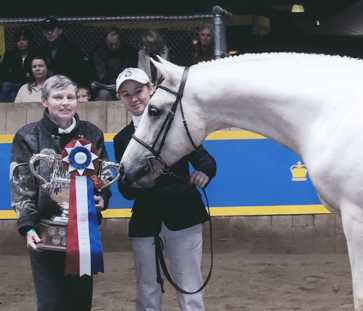 White Pharaoh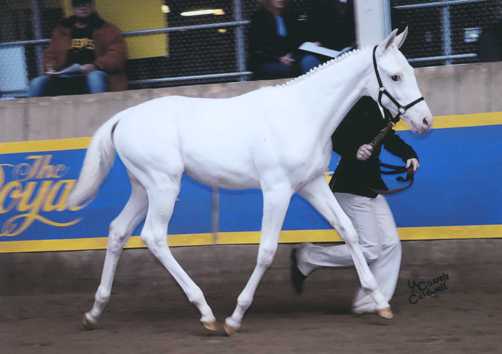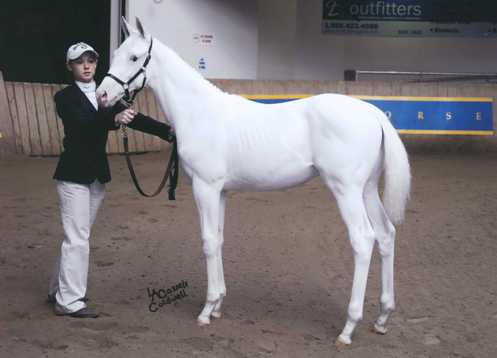 VIDEO OF GRAND CHAMPION CLASS





---
---


November 10th

He's a Classic (Romeo), our section A Welsh stallion shows at the Royal Winter Fair. It was so much fun and Romeo posed in many photos with children. :) He loved all the attention. He got second in his class and was named Reserve Champion stallion.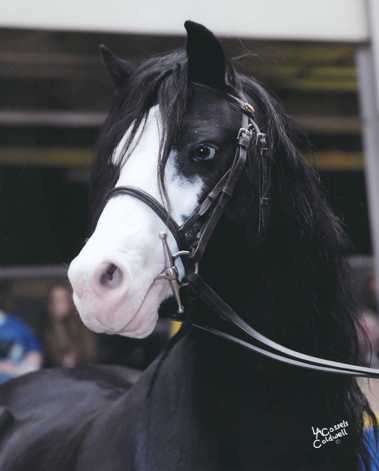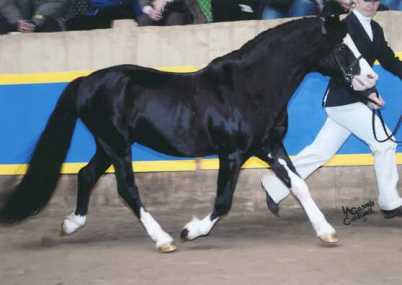 ---
---
---
---


October 27th

Clearly Foxy runs in the Breeders' Cup Juvenile Fillies at Monmouth Park in Oceanport New Jersey. The weather was horrible and the track was very sloppy from days of rain prior to race day. This was her first time on the dirt and it was far from what one would consider ideal conditions. Still she ran a nice race beaten only a head for 5th. Coming down the back stretch she was in last place because she did not like all the slop being thrown in her face. Coming around the final turn she got clear and had a great closing finish.

Lindsie(friend), April (me) and Tasha (sister) Tahsa, Lindsie, Charles (owner), April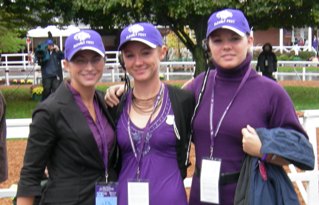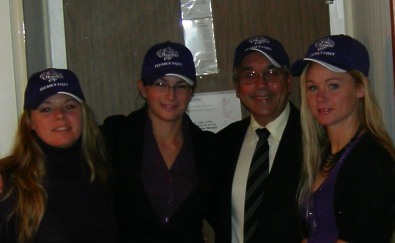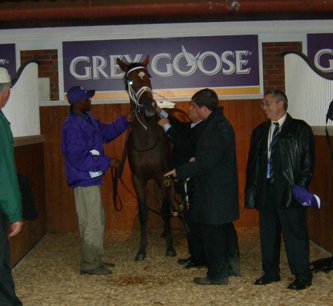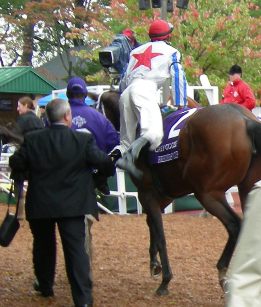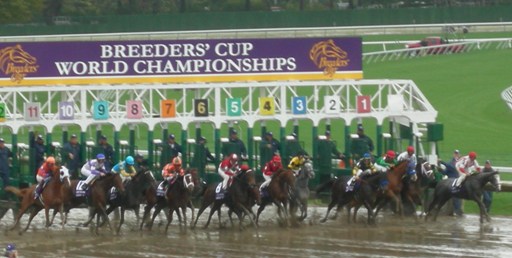 Clearly Foxy resting back in the barn after the race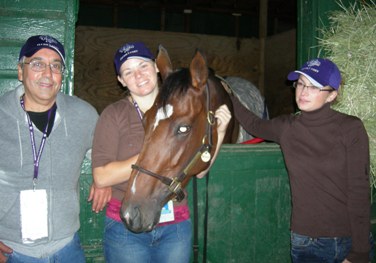 ---
---


October 11th

Lickety Lemon runs is the $150,000 JP Morgan Chase Jessamine Stakes at Keeneland in Kentucky. She ran a edge of your seat race, finishing second by only a neck. Way to go Lemon!!! She is now off for a couple months and will winter down in Florida. She will be brought back in the early spring of 2008.



---
---
October 6th

Miracle Jo places 9th out of 26 horses at Twinholm (her second show ever)This class was Royal Winter Fair Qualifier. And with the points accumalated from the two shows she has QUALIFIED for the Royal Winter Fair!!! Way to Zoey (Miracle Jo)and Lindsie!!!



---
---


September 29th

Officer Cherrie wins the Grade 3, $250,000 Mazarine Breeders' Cup Stakes at Woodbine, on the Poly Track.
Officer Cherrie has now won her third consecutive race and her first graded stakes. She will be shipped to Florida now, for a well deserved rest over the winter. We look forward to her campaign in 2008. She is a contender for the Canadian two year old champion.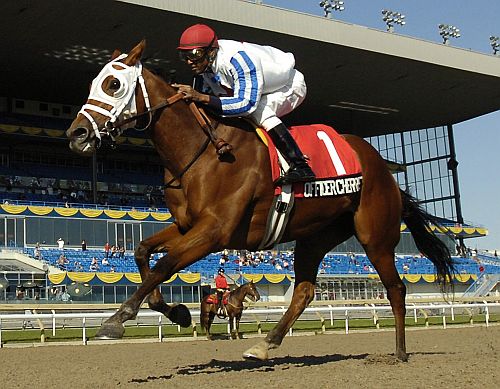 Photo credit Michael Burns



---
---
September 15th

Our first homebred hits the show ring under saddle. Miracle Jo is 3 year old by Mirbaeau and out of Roll On Jo 16.1h TB approved for CWB, CSH and Oldenburg. Miracle Jo was orphaned at a few hours old due to her dam's passing. Hence her name.

She was long lined/back in Dec 06/Jan 07 for 60 days then brought out of the pasture life 2 weeks ago to prep for this show. She was amazing and not fazed by anything during the marathon day at the show. We were there for 11am as we were told to be ready by noon but her class did not go into the ring until 7pm. There were 36 horses divided into 3 groups. The judge took her favorites from each group with watching the w/t/c in each direction and they asked for walk to canter transitions which our mare did very well. After round one, Miracle Jo was called back. Yay.

Now the group consisted of about 20. They all had to w/t/c again each way. Our lady was so well behaved and did all that was asked and got her correct leads every time. She never missed a step. She was much further behind all the others in training as she is not on the bit yet. Just happily hacking... :) and we took home 15th place from 36 horses. We are thrilled for her and her first show with 2 weeks under saddle. This was a qualifying round for the Lieutenant Governor's Cup for 3 year olds at the Royal Winter Fair. There is another qualifier in the beginning of October which we will also take her to. They take the top 17 horses so we should be in the running. The next show she should do better with another 2/3 weeks of training by then. And what a great job Lyndsie Baum did riding her. :):)
Click photo below to go to Miracle Jo's own webpage...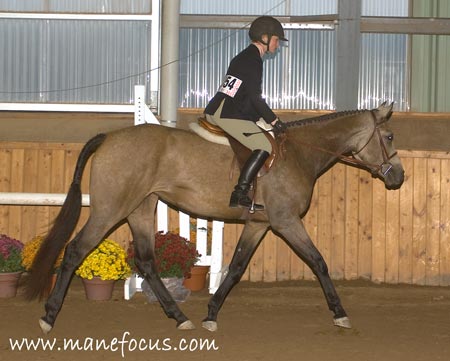 Photo credit Jackie McManus




---
---
September 9th

Clearly Foxy and Lickety Lemon ran in the $150,000 Natalma Stakes (G3), on the turf at Woodbine Race track.
Clearly Foxy ran an amazing race winning it by 3 1/2 lengths and drawing away. Lickety Lemon also ran a good race finishing 3rd. Now we have a graded stakes winner and a graded stakes placed as future broodmares that will come to Blazing Colours Farm.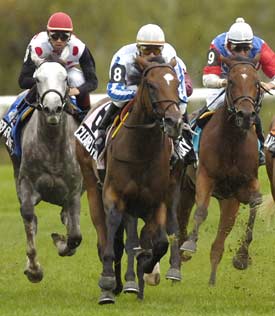 Photo credit Michael Burns


---
---
September 8th

Arts Aero and I (April Wayenberg) competed at Checkmate in our first show together in 2007. The weather was lovely as were all the people. Arts Aero had a good sized fan club by the end of the day. After the dressage we were ranked #1 and after stadium we were still ranked #1 but after the cross country phase we slipped to 2nd. We were clear and had a great cross country round but unfortunately we were admiring all the scenery and ended up with a few time faults for going too slow. Guess I will wear a watch next time and keep better track of the meters/min. :)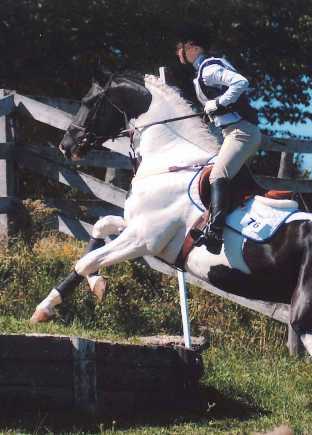 &nbsp
&nbsp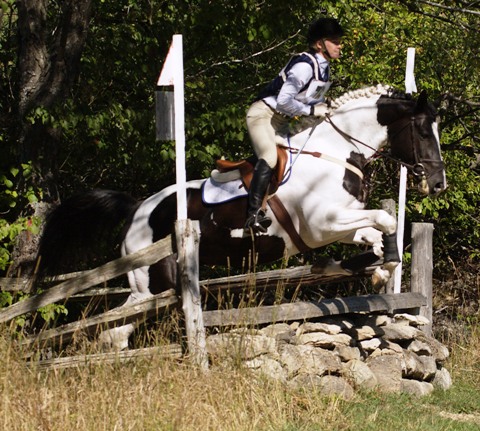 ---
---
August 19th

Lickety Lemon wins the Natalma Prep, $79,900 allowance, on the turf at Woodbine Race track.

WOW... Another win for one of the fillies. She went off as the heavy favorite and for good reason. As she rounded the turn for home, she was at the back of the pack. In the stretch she galloped on like Lickety Split to bring home her second victory.



---
---
August 18th

Officer Cherrie wins the Ontario Debutante, $125,000 stakes race, at Woodbine Race Track.

An amazing race where she beat the heavy favorite (Dancing Allstar) Click the photo to read an article about the race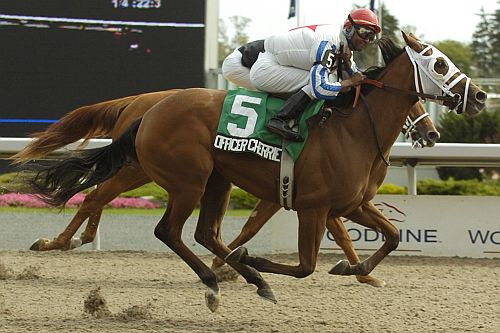 Above photo courtesy of WEG/Michael Burns Photography


---
---
August 14th

Blazing Colours Farm hosts it's first RPSI inspection. It was a great success with all four Mirabeau foals receiving Premium Status. Mirabeau is a 100% producer of Premium offspring. Way to go Mirabeau!! All three of the mares we presented were entered into the main mare book. We also presented one yearling and the Inspector commented several times on what a gorgeous yearling filly she is. Wait to see the photos!!!

The weather was perfect , the crowd was great and lunch was nice too. Photos to be posted as soon as our order is complete with a link to many photos from the day.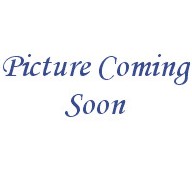 A blog done by the photographer...
---
---
August 6th

Clearly Foxy wins her first race at Woodbine Race track on the turf.
Maiden Special Weight $60,000.
This very sweet filly is off to a great start in her racing career.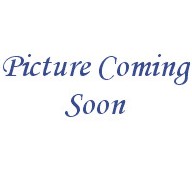 ---
---
August 4th

Lickety Lemon wins her first race at Woodbine Race track on the turf.
Maiden Special Weight $60,000.
Way to go Lickety Lemon!~! A great start for this gorgeous filly.

---
---
July 21

Officer Cherrie wins at Woodbine Race track.
Maiden Special Weight $60,000.
A great start for her future career as a broodmare.

---
---
July 5-7

I flew out to Calgary, Alberta to watch Arts Aero compete in the last week of competition at Spruce Meadows. What a great facility from barns to warm up rings to the show/grass competition courses. Would love to go back next year. Arts Aero was fantastic and on the final day of competition he went double clear bringing home a fourth place. Many more photos from my days at Spruce Meadows can be seen here.

Here he is below waiting to go back in for the jump off on the final day of competition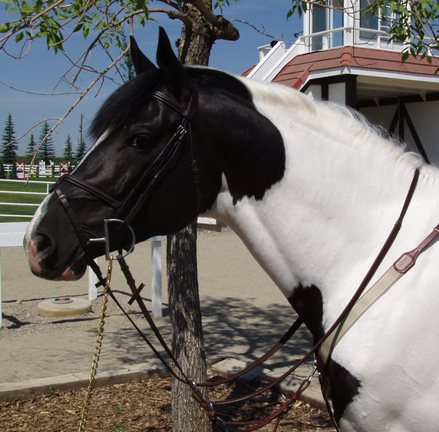 and getting a good boy pat after going clear again!!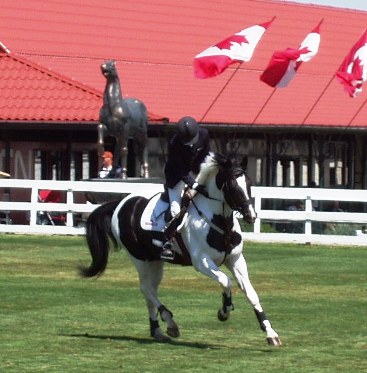 ---
---
June 12

Sprain my ankle forcing me to take a bit of down time...
---
---
June 6

White Pharaoh (Sato x Golden Belle by Glitter Please)
This is the Fourth white Thoroughbred to be foaled at Blazing Colours Farm. Thus far all white Thoroughbreds foaled in Canada have been at our farm. White Pharaoh has been DNA tested to have a base coat colour of Palomino. The third ever with this genetic make up. One of the others is our 2005 stallion prospect, Cloud Ten.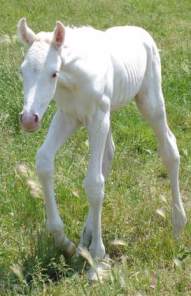 ---
---
June 1

Mirarmani (Mirabeau x Justlikemymom by Anet)
This is a palomino warmblood colt.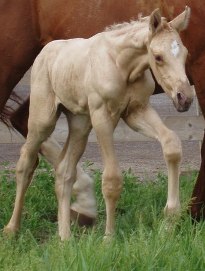 ---
---
May 30

Arts Aero, leaves for Calgary Alberta to compete at the prestigous Spruce Meadows



---
---
May 22

Future broodmare, Lickety Lemon, (I named this one too :) )purchased by Charles Laloggia from Maryland Midatlantic sale This is a two year old filly that will have a racing career before becoming a race producing broodmare at Blazing Colours Farm.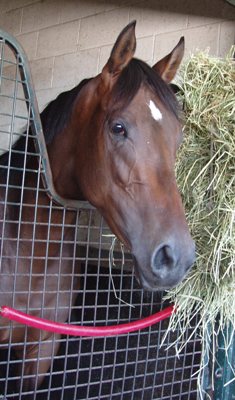 ---
---
May 21

Future broodmare, Clearly Foxy, purchased from Maryland Midatlantic sale by Charles Laloggia. I named this one :) This is a two year old filly that will have a racing career before becoming a race producing broodmare at Blazing Colours Farm.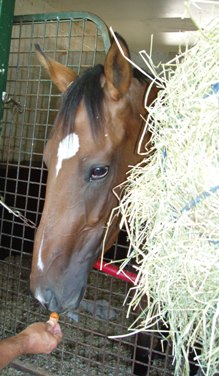 ---
---
May 15

Arts Aero heads up to Palgrave and Mirabeau home for breeding duties


---
---
May 8

Mirabeau heads up to Palgrave and comes home with a clear round


---
---
May 2-6

We head up to Ottawa with Mirabeau and Arts Aero to meet with new trainer, Kim Farlinger
A great time with lots of horse filled activities including getting a few lessons myself.

Kim Farlinger Stables


---
---
April 30

Miramaze (Mirabeau x Melody by Sambuco B)
This a warmblood buckskin pinto filly. We believe she is the second buckskin pinto filly with a 100% warmblood pedigree to be foaled in North America. The first is our first foal of the season Mircedes!!! Yet another rarity at Blazing Colours Farm.


---
---
April 26

Future broodmare, Officer Cherrie, purchased from OBS spring sale(Ocala Breeders Sale)by Charles Laloggia This is a two year old filly that will have a racing career before becoming a race producing broodmare at Blazing Colours Farm. Not much white on her ;)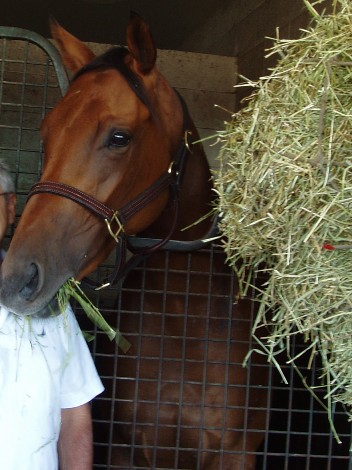 ---
---
April 16

Titanium Teddy foaled (Sato x Platinum by Kings Ransom)
This is a palomino Thoroughbred colt. He is for sale...


---
---
April 11

Snow White foaled (Sato x White Gold by Kings Ransom)
Oh boy were the stars shinning down on us the morning this filly entered the world. She is one of a kind in the entire WORLD!!! Snow White is a white Thoroughbred (3rd foaled at Blazing Colours Farm) and her base colour is cremello which is what makes her so unique. To know she is a cremello one just has to look at her pale sky blue eyes. A white thoroughbred will always have dark coloured eyes unless it is a cremello. She is a keeper for sure!!!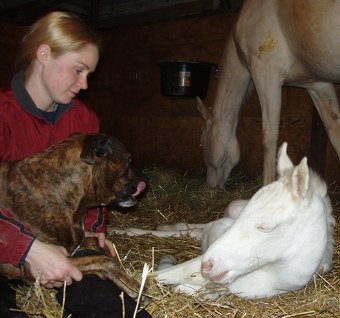 ---
---
April 4

Mircedes foaled (Mirabeau x Princess Vera by Samber)
Mircedes is a buckskin warmblood pinto. We believe she is the first foaled in North America with a 100% warmblood pedigree. What a great way to start the foaling season. :):)


---
---
April 1-30

Mirabeau in training with Carley Cooper at Millcreek stables



---
---
February 10-18

Head to Ocala for some sun and of course horses too. Ocala has been called
The Heart Of Horse Country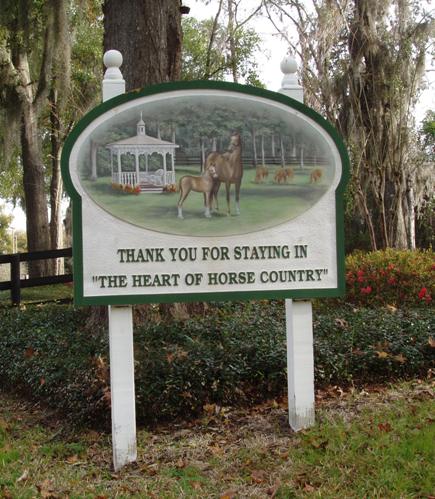 Feb. 14-16 HITS Ocala
A fabulous facility with great footing and some very nice horses. What is really quite neat about this facility is that there is a mile training race track and in side it are two jumper rings,two hunter rings and several warm up rings. I also met up with Carley Cooper who is the new trainer I will be sending Mirabeau to. If all goes well you can look for the pair of them in jumper ring this year.

Photos below are of the rings inside the thoroughbred training track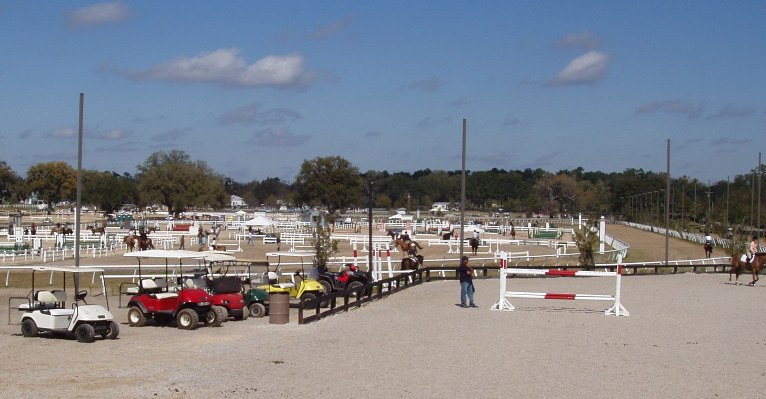 The Grand Prix jumper ring


Harrowing the warm up ring with a street roller :)


Feb. 11-13 Ocala Breeders Sale (OBS) 2 year olds in training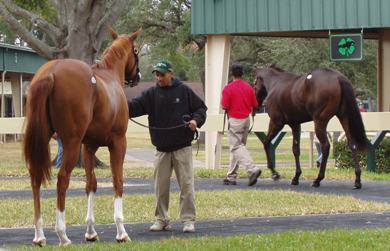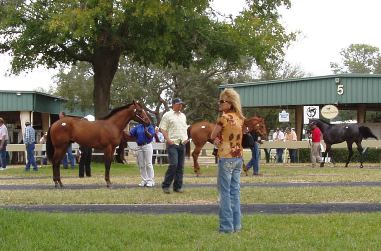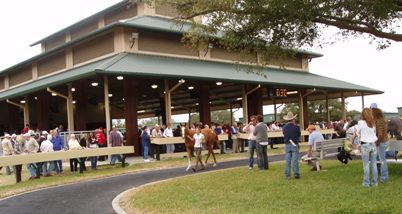 Below is Norman Casse (one of the founders of OBS) taking a rest
and enjoying what he helped create.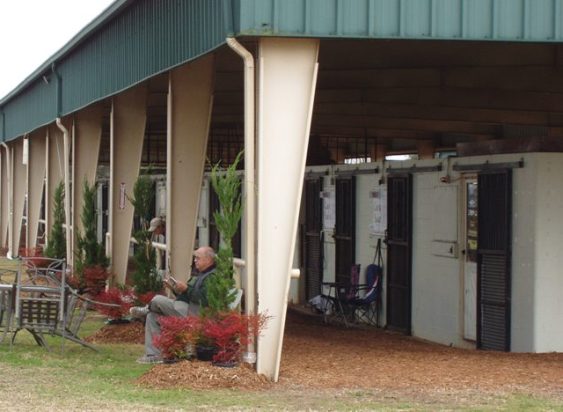 Charles Laloggia and Timmy Kegel enjoying the sunshine after two days
of looking at Thoroughbreds at OBS.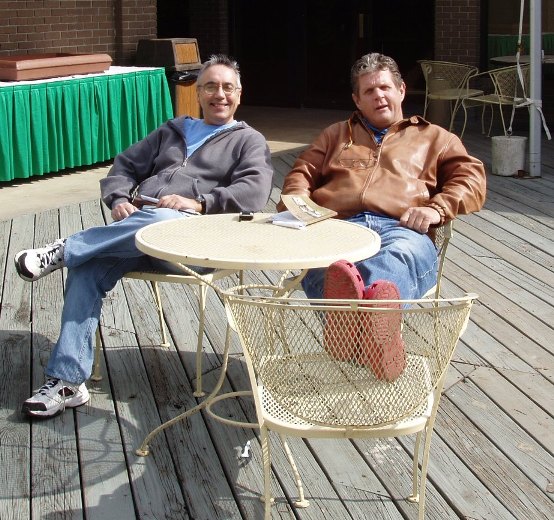 ---
---
December/06
Happy Holidays from all of us at Blazing Colours Farm...
Below is Mirabeau in the Holiday spirit...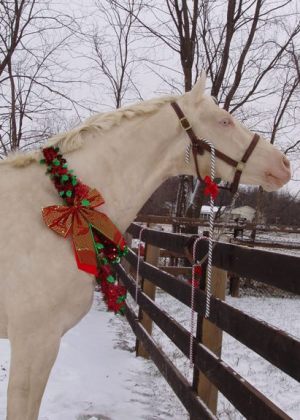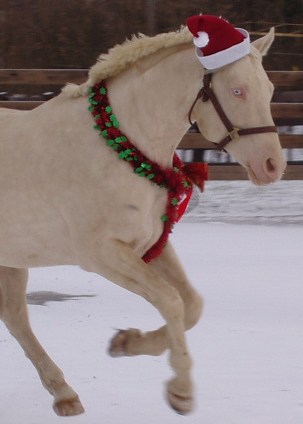 ---
---
November 24/06
We are very Thankful to have aquired a daughter of our late Stallion, Inferno. We welcome VDL Oilily and owe a very big thanks to Sakura Hill Farm for being so generous with the offer of this mare. We will breed her in 2007 and I will enjoy riding her until then.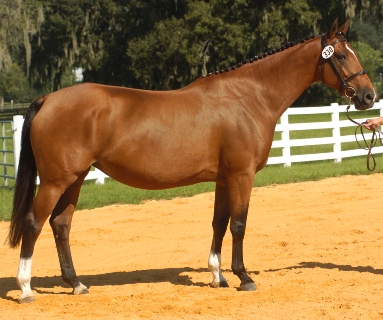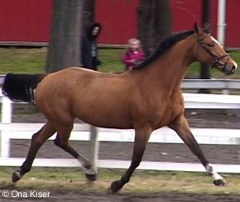 ---
---
November 8-9/06
Shipped 4 Thoroughbreds to the Royal Winter Fair. A great time where the weather was abormally warm. The horses were all very well behaved and we all had a great time. Thanks to Anna Lynn for all her help and of course for letting us catch a few ZZ's at her house. We left with 2 thirds, 2 seconds and 2 reserve champions.
Below is Golden Time (aka Rolex) a Two year old Thoroughbred. He was second in his class and reserve champion colt/stallion.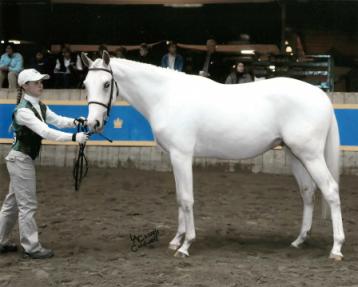 Below is Cloud Ten (aka Caden)a yearling Thoroughbred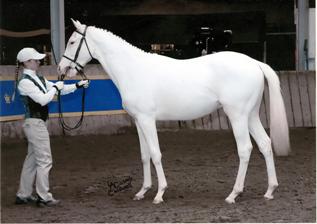 ---
---
November 3-5/06
Traveled to Louisville, KY to be a part of the Breeders Cup. Friend, Charles Laloggia, his two year old grey colt Skip Code in the Breeders Cup Juvenile. What a great time where we got to be a part of all the events. Photo below is of me (April) to the left, Charles Laloggia (owner) Timmy Kegel (agent and very dear friend of Charles) and Tim's daughter (Emily) to the right. Skip Code did not finish in the top of his race. He had a rough trip but did beat 5 horses. He will be back in 2007...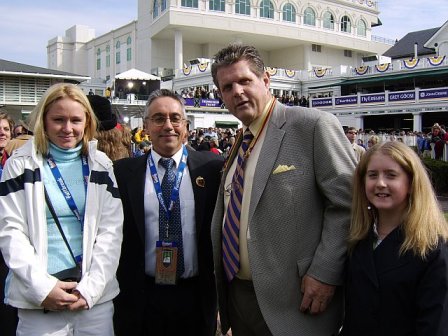 Below and starting from the right is trainer (Mark Casse) , Jockey (Patrick Husbands) , trainer's son (Joel) and owner (Charles Laloggia)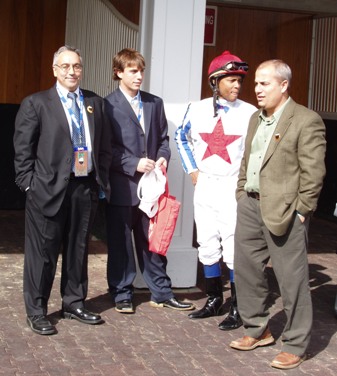 ---
---
October 20-22/06
I ride in a Clinic with Olympic gold medalist, Andrew Hoy. A great time where I rode Arts Aero.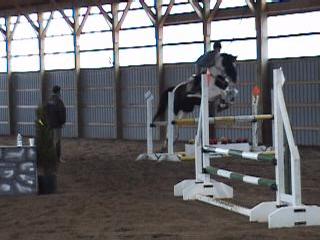 ---
---
October 9 /06
Traveled to Woodbine in Toronto to wacth my friend's horse race in the Grey Breeders Cup. And HE WON!!!! Way to go Skip Code!!!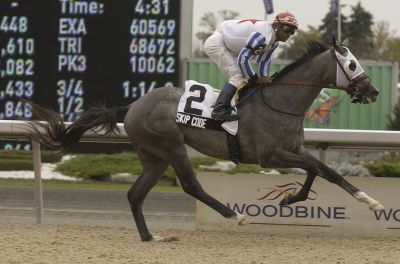 ---
---
September 28 /06
Day off and traveled to Rochester, NY to watch comedian Jerry Seinfeld live.




---
---
September 24/06
Eventing on Arts Aero at Equus 3D. 3rd place in Entry Level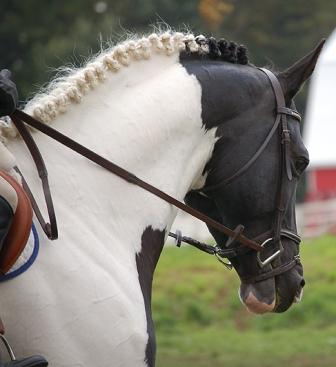 ---
---
September 10 /06
Eventing on Arts Aero at Checkmate. 4th place in Entry level




---
---
August 30 /06
My first event riding Arts Aero. More photos soon...




---
---
August 9/06
Attend an RPSI inspection at Twin Equestrain Center with 2 mare/foals. Both foals were sired by Mirabeau. Miroliet (Mirabeau x Zeoliet x Olympic Ferro) GOLD Premium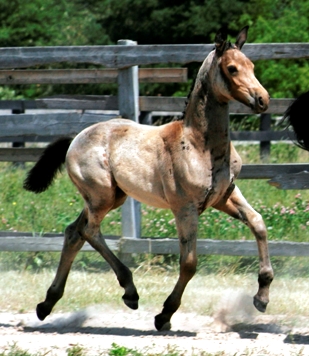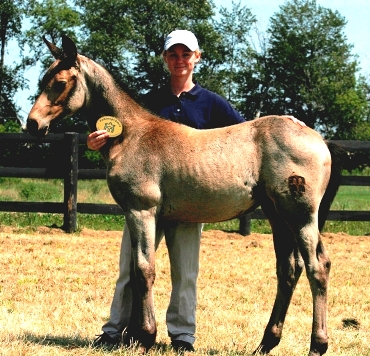 Mirascotch (Mirabeau x Ramiro x Cartoonist) SILVER Premium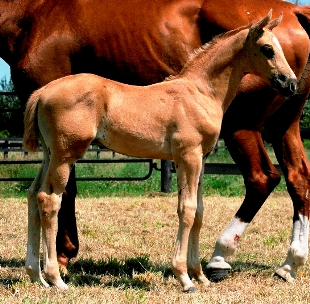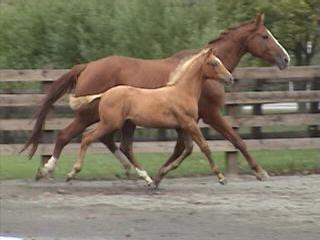 ---
---
August 2 /06
We take three of our dilute Thoroughbred mares to Mill Creek farm for the Oldenburg inspection (GOV) All three mares pass and are entered in the main mare book.

White Gold (aka Honey)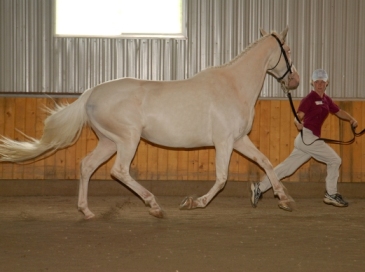 Pure Platinum (aka Treasure)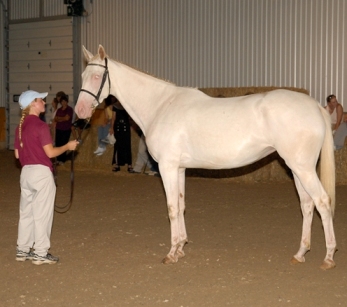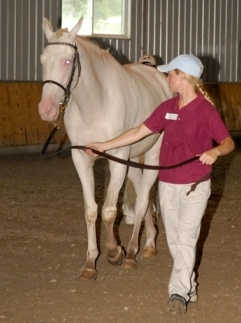 Golden Belle (aka Belle)

---
---
July 19-30th /06
Mirabeau travels with me to Saugerties, NY to compete at HITS on the Hudson.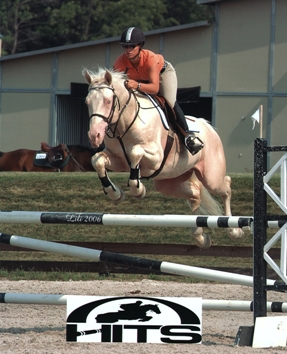 ---
---
July 16-18th /06
I take a trip to the Fasig Tipton yearling sale in Kentucky. A much needed couple days away. I see our mare, "Adorable's" 1/2 sister sell for $40,000. Here she is at the sale.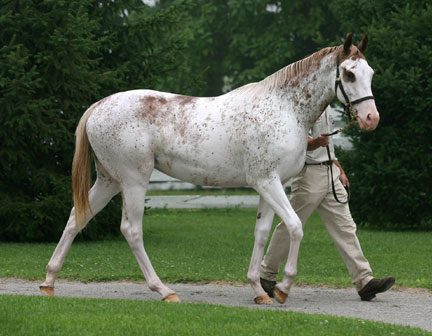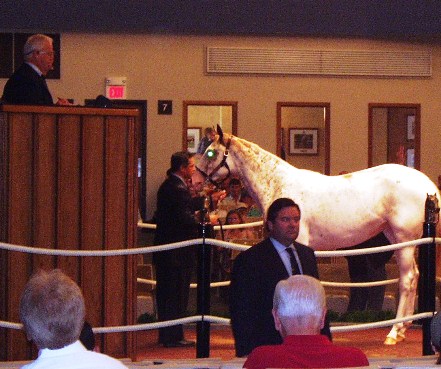 ---
---
July 14th /06
Inferno was euthanized after just over a 2 month battle with his broken front leg. His bone was just not healing so after 3 surgeries the decision was made to let him go and live pain free once again. You can read all about him and his incredible fight to survive by clicking here... Rest In Peace my sweet sweet boy... You are missed.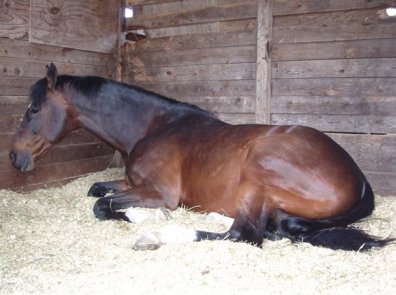 ---
---
June 25 /06
The tenth foal to arrive at Blazing Colours Farm. A palomino filly by Mirabeau and out of Just Like My Mom.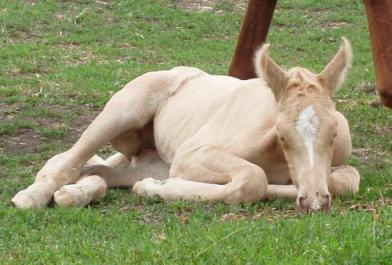 ---
---
June 24 /06
The ninth foal to arrive at Blazing Colours Farm. A Bay filly by Sato out of Maika My Dinner.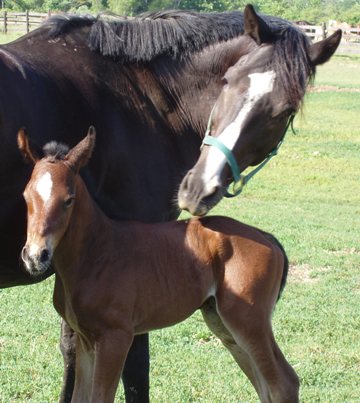 ---
---
June 14-16/06
Horse Show rained out at Palgrave, Ontario. The stallions did a class oh concour in a ammy class on the Friday to just get at least one day in the ring. Sorry no photos...




---
---
June 10 /06
The eighth foal to arrive at Blazing Colours Farm. A Palomino colt by Mirabeau out of Katia. His name is Miramax and was foaled during the day in a Thunder/Lightening storm.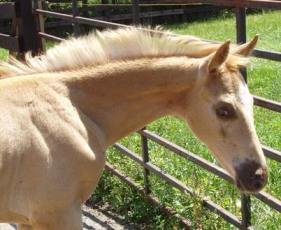 ---
---
June 6-8/06
Mirabeau travels to Chicago to compete at Lamplight Equestrian Center, IL. However there are no photos as I was unable to travel with him due to being behind around the farm.




---
---
May 31-June 1/06
Travel to Devon, PA to watch the Hunter breed line classes and of course the Grand Prix jumpers go on Thursday night. The second photo is the GP course designer with his boy crew. I just love this photo... I had a great time here seeing some friends from afar and of course seeing some very nice horses. However my flight home was canceled due to Thunder/lightening storms so I ened up driving home in the rental car the next morning and missed taking my horses to a show, the Friday I was to return. They could not compete in the mini prix on Saturday with out being in the Friday class. Oh well a weekend off for them and I.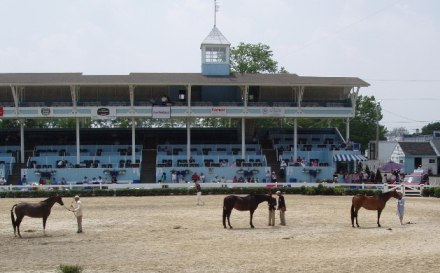 ---
---
May 26/06
The seventh foal to arrive at Blazing Colours Farm. A Palomino filly by Sato out of Sunny Kat.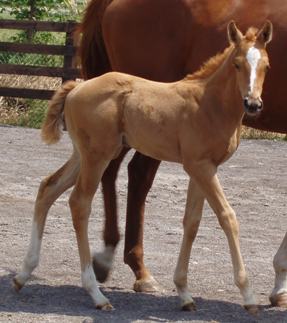 ---
---
May 25/06
sixth foal to arrive at Blazing Colours Farm. A beautiful buckskin filly by Mirabeau out of Ullala. The filly is named Miroliet. Visit the foals page to see more of her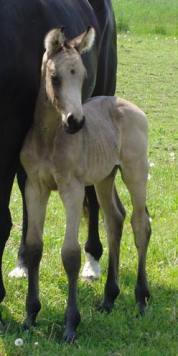 ---
---
May 23-28/06
Mirabeau went to Saugerties, NY to compete at HITS on the Hudson in level 3 & 4 open jumpers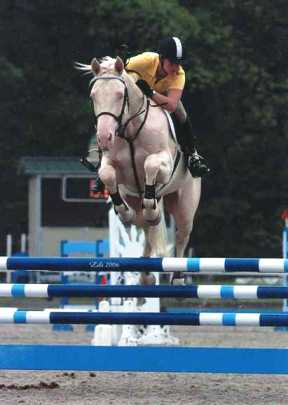 ---
---
May/06
Inferno in the hospital with a cast on his broken leg and living in a sling to help take pressure of the leg. Please click on the photos to read all the Inferno updates from start to finish.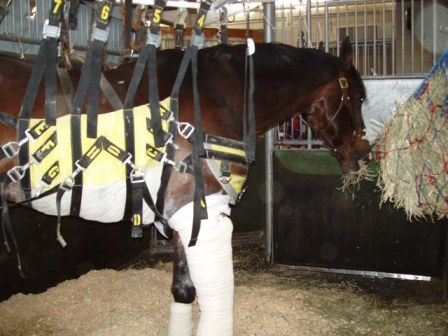 ---
---
May 14/06
Our Second WHITE TB foaled at Blazing Colours Farm. The fifth foal of the season enter the world with a big splash!!! A Jockey Club registered white Thoroughbred. This special guy is for sale. Visit the sales page to see more photos of Sand Castle...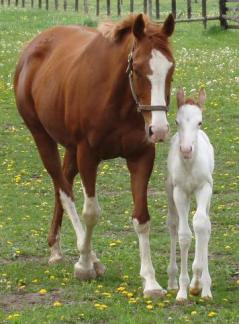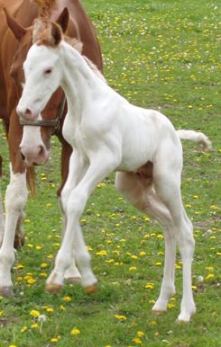 ---
---
May 12/06

Fouth foal born at Blazing Colours Farm. A Buckskin Thoroughbred colt by Sato and out of Erotic Twist. His name is Mocha Twist.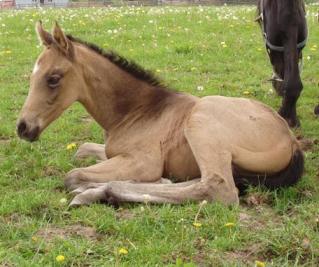 ---
---
May 6/06

Tragically our newest stallion, Inferno, broke his leg during a freak pasture accident and has been sent to Guelph Hospital where he will under go surgery and be in intensive care for a few months. We pray he pulls through.


---
---
May/06

Mirabeau at Palgrave show grounds Ontario.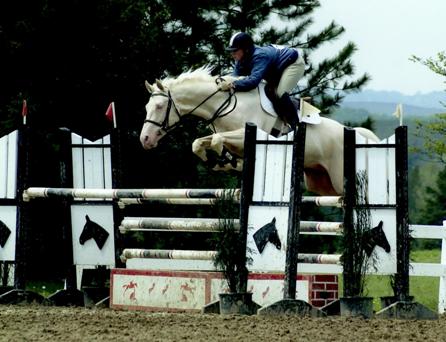 ---
---
April 26/06

Our third foal of the 2006 season. A Buskskin WB Filly named Miragold by Mirabeau out of Winsome Gold.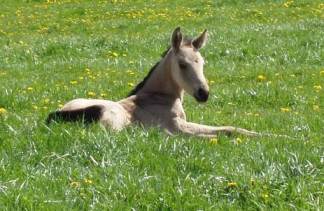 ---
---
April 24/06

Our second foal of the season. A Palomino TB colt named Satin Ascot by Sato out of Bobbyascot Bobby.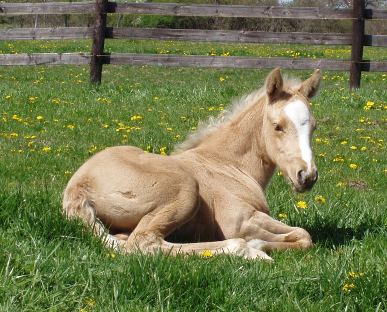 ---
---
April 19-23rd/06

The first outing with the stallion in the 2006 season. We went to Culpeper, Virginia where Mirabeau , Arts Aero and Inferno competed in the HITS show. This was Mirabeaus first show ever and he did fabulous. He competed in level 2 & 3 open jumpers with great placings. See his webpage for results. Arts Aero did the level 3 jumpers and then the adult hunters with me on the weekend. Inferno and I did the Adult jumpers and really had a blast.

Mirabeau and Natty Hunt in the open jumpers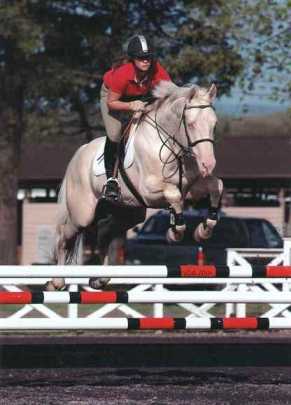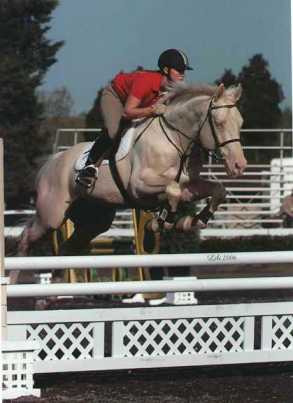 photo credit Lili Weik

Inferno and April Wayenberg in the adult jumpers


Photo credit Lili Weik

Arts Aero and April Wayenberg in the adult hunters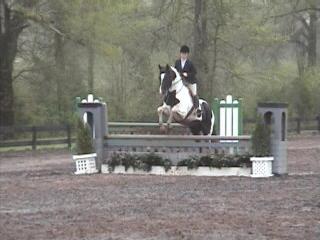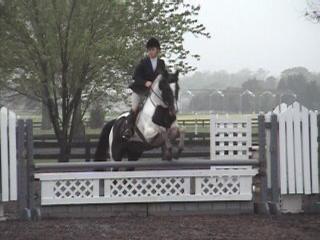 ---
---
March 22nd/06

We are excited to announce our second purchase of 2006. This time two, yes two, extrodinary broodmares. The first is a 4 year old Cremello Thoroughbred mare named White Gold. She is one of 3 cremello Thoroughbred mares in the world. One of the others is White Beauty who was foaled at our farm this year. The second is a 3 year old Perlino Thoroughbred mare named Platinum. She is a first for the Jockey Club and a first for us. This is our second purchase from Red Fox Farm and can not thank the RFF team enough for producing these two outstanding mares. They have it all; temperament, conformation, gaits, looks and of course colour. They will be used as broodmares and with Embryo Transfer they can also have show careers. New photos will be posted of these ladies upon their arrival.

White Gold Platinum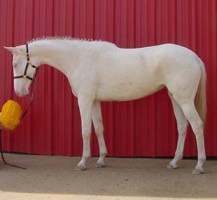 ---
---
March 6th/06

We are very excited to announce the arrival of our first foal. It is a Cremello Jockey Club registered Thoroughbred filly! She is the first cremello Thoroughbred ever foaled in Canada and the 3rd cremello thoroughbred filly in the world!!! She is appropriately named " White Beauty" and will not be for sale. Her dam, Golden Belle, was purchased in foal last summer from Red Fox Farm in Texas.
Please visit the foals page for more info on her. Foals Page or go directly to her own page for many photos. White Beauty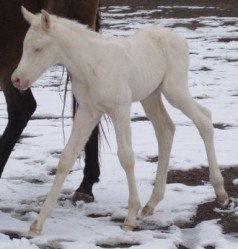 &nbsp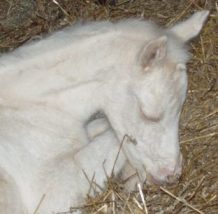 ---
---
Jan 10th/06

We just purchased yet another stallion and he is number seven now!!! This is a very exciting addition to our 2006 lineup. Inferno (Corrado II) is a successful Grand Prix competitor under world renowned rider Hap Hansen. He has many wins and placings at some of North Americas most prestigeous events such as Spruce Meadows "Master; LA Int'l World Cup Qualifier; Indo HITS Grand Prix; Lake Tahoe HITS Grand Prix and more. He is a 1990 model, 17h & Bay with 4 socks and blaze. Approved for breeding with Dutch Warmblood/Selle Francais/Old NA/RPSI

Please visit his page for much more information on this new stallion and to see many pcitures of him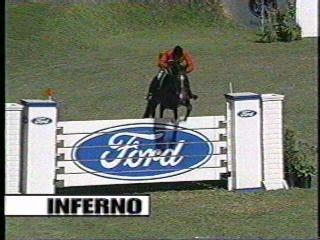 &nbsp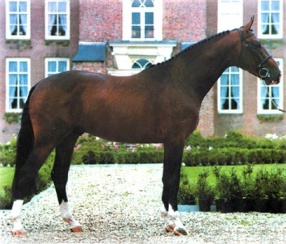 ---
---
October 15th/05

We are adding another broodmare to our 2006 line up. Princess Vera was imported from Holland a few years ago. Her sire "Samber" received a rare 10 for temperament and has passed that along to this wonderful mare. Her sire is also the grandsire of our stallion Arts Aero. This mare is ours and will be used for riding at the training facility until the spring of 2006 when she will be bred to one of our stallions.
Please visit the mares page for more info and photos of this mare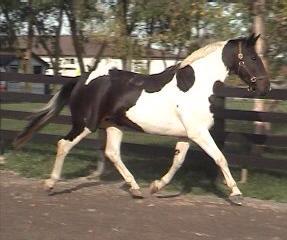 &nbsp




---
---
June 6th/05

Three horses we bought from Texas arrive in NY for a 3 week stay before being shipped over the border to our farm. They were bought from Red Fox Farm. The first is a buckskin mare by Glitter Please. She is in foal (due Feb /06)to the palomino TB stallion Kings Ranson. The second is the mare mentioned aboves buckskin TB colt at side. He is by the same stallion she is currently in foal to. The third is a minimal palomino sabino yearling stud colt. He is out of a Palomino Glitter Please daughter. More details to be added soon with full bloodlines etc...to broodmares page for mare and stallions page for colts



First photo is of mare and colt. Second is of her colt. Third and fourth are of our future palomino sabino TB stallion.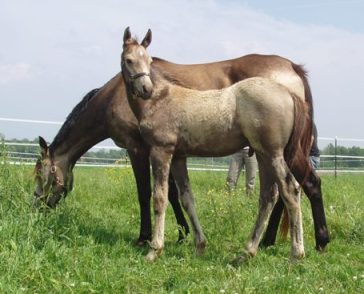 &nbsp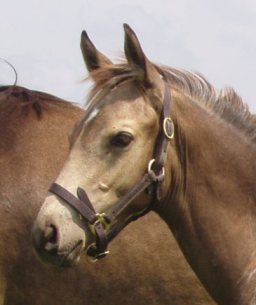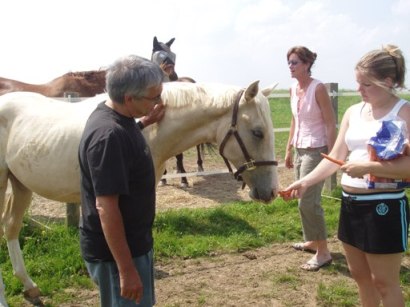 &nbsp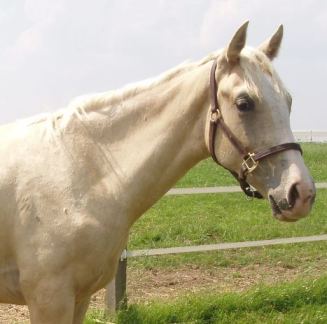 ---
---
May 21st

We are estacic to be the proud breeders of the first white thoroughbred ever foaled in Canada!!! and it is a COLT!!! He is not for sale as he is being kept to become a part of our stallion roster. His base coat is palomino with very loud sabino markings making him appear white.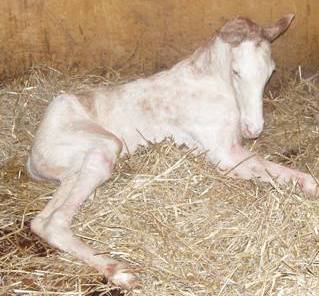 &nbsp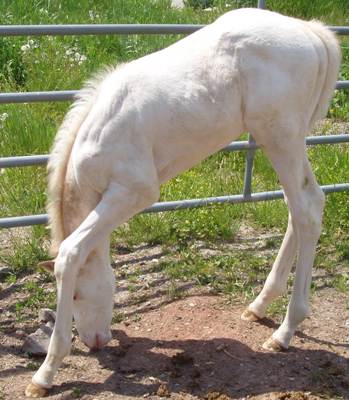 Visit the foals page for more info and photos and a full pedigree~
---
---
May 2005

Blazing Colours Farm makes it in the news... There was an article published about the farm in the Niagara Farmers Monthly and it was written by Liz Black.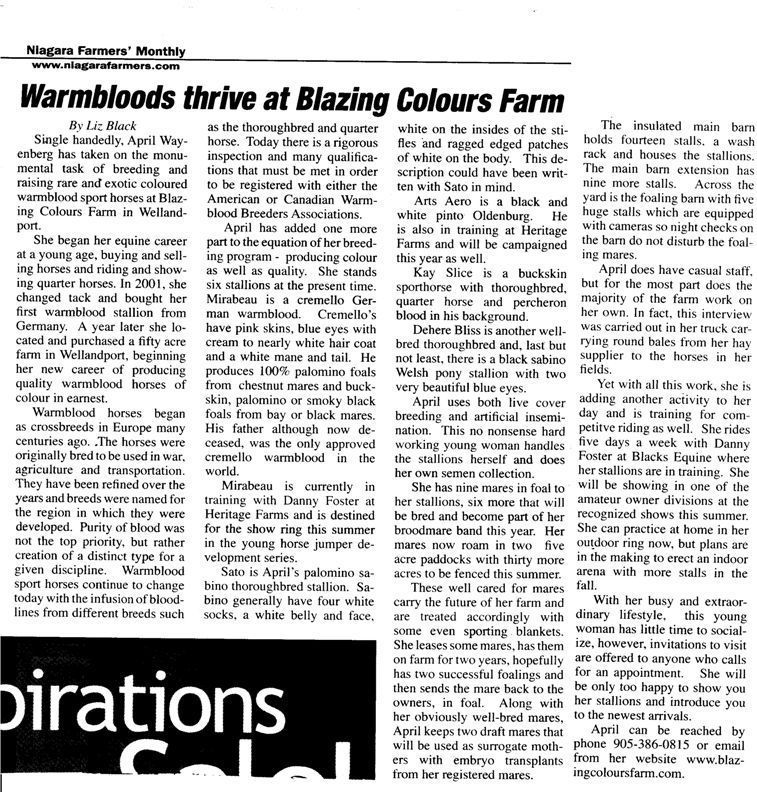 ---
---
April 20-24th/05

Arts Aero went to Culpepper, VA to compete in the level 2 & 3 jumpers. This was his first show ever and he did fantastic. He had a couple clear rounds but always seemed to get caught by at least one rail in the jump off. This was a warm up for his show season here in Canada. Below is a photo of Arts Aero being ridden by Natty Hunt in the Grand Prix ring. I am very proud of them both!!!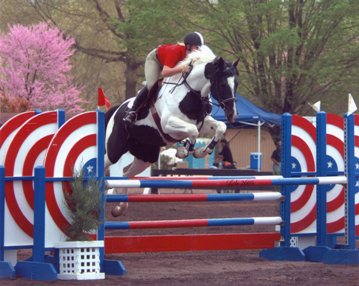 ---
---
April 6/05

The first foal born here at Blazing Colours Farm.
Visit the foals page for more information and photos of this lovely lady and all the other foals that are arriving. Our last is due July 15th/05




---
---
March 29th/05

I drove to London, Ont. and picked up a new mare. She is a 17.1h chestnut by Ramiro out of a TB mare by Cartoonist.
Visit the broodmares page for more info ~





---
---
March 24th/05

Arts Aero first foal of the season arrived and boy did he stamp this filly. Congrats to Anne & Claus Zander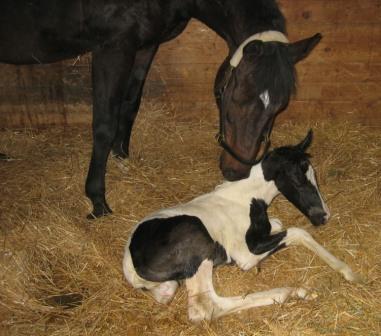 Visit the stallions page for more info and photos of Arts Aero~
---
---
March 20th/05

Arts Aero and I competed in our first show. We revieved a 3rd place in hunter over fences at Blacks Equestrian Center. It was my first show in many years and Aero took great care of me. It reminded me why I got into breeding horses in the first place. "Because I Love to Ride!!!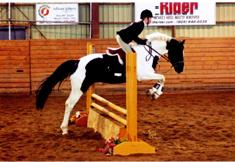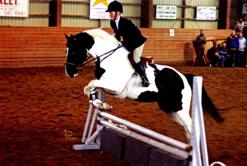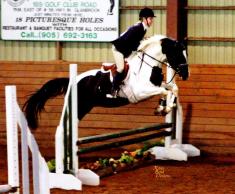 Visit the stallions page for more info and photos of Arts Aero~
---
---

January 12th/05

Mirabeau and Arts Aero enter training at Heritage Farms with Natty Hunt and Danny Foster. Danny Foster is a certified level III coach and has over 30 years of experience training top athletes competing in the disciplines of show jumping and three day eventing. A former competitor, Danny was an integral member of the Canadian Show Jumping team, bringing home an individual gold medal and leading his team to a silver at the 1991 Pan American Games in Havana, Cuba. His involvement with the team continues today as the Chair of the selection Committee and acting in the role of chef d'equipe for the Canadian Show Jumping Team at the 2003 Pan American Games. In that capacity Danny brought home another gold medal in 2004 at the Palm Beach Samsung Nations Cup of America. As a course designer, Danny holds his 'I' status with the International Equestrian Federation (FEI) and designs courses at many of North America's top show jumping events. With one of his latest jobs being in Indo, California, and one of the courses was for a Nations Cup Qualifier.
Natty Hunt has been training with Danny Foster and a part of Heritage Farms since 1998. Natty is well known in the horse industry for her good nature, dedication and success in the show ring. One of her best qualities is her ability to get a horse to "want" to work with her. She has been an awesome addition to the stallions under saddle training. She will be riding both stallions in competition around North America this year.

Natty Hunt is riding both Stallions in the photos below


&nbsp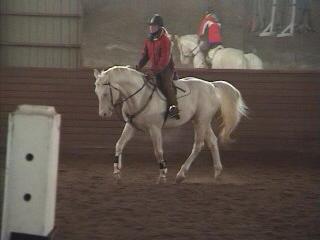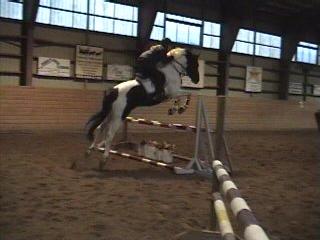 &nbsp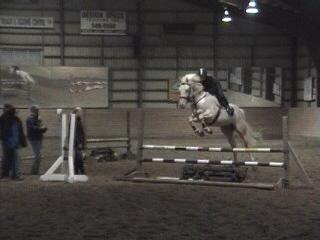 ---
---
January 20-21st/05

I drove to Douglas, MA to pick two new mares, Ulalla and Melody, who are both Dutch Warmbloods. They will join the broodmare band for the 2005/06 season. Check out the broodmare page for more information on them...



---
---
74033 RR #45 | Wellandport, Ont, L0R 2J0 | (905) 386-0815 |


E-mail Us